APCO round-up of World Osteoporosis Day 2020 activities
Last Tuesday, October 20, 2020, members of the Asia Pacific Consortium on Osteoporosis (APCO) celebrated with gusto, World Osteoporosis Day (WOD) – an annual International Osteoporosis Foundation (IOF) campaign designed to promote public awareness of osteoporosis, and to support local bone health-related activities in its more than 260 national societies worldwide. We were thrilled to see so many of our APCO members proactively raising awareness of the need for optimal diagnosis, treatment, and prevention of osteoporosis in Asia Pacific (APAC), the world's most densely populated region. To learn how Australia, New Zealand, Pakistan, Singapore, Thailand, Vietnam and the IOF celebrated this important occasion on the annual public health calendar, read on.
Australia
To commemorate WOD this year, Osteoporosis Australia (OA) called for Australians to take action to protect their bone health by learning to identify the risk factors for osteoporosis. OA shared multiple patient stories on their website and social media channels, and promoted the IOF Risk Check infographic, an invaluable international bone health resource, tailored to the Australian market.
Federal Health Minister, The Hon. Greg Hunt MP, provided a personal video message to mark WOD, during which he thanked OA CEO and APCO Executive Committee Member, Dr Greg Lyubomirsky, Sydney and the Garvan Institute of Medical Research, for their invaluable contribution to protecting the nation's bone health.
"This is an immensely important topic. Together with OA and the osteoporosis community, we have developed the National Strategic Action Plan for Osteoporosis. We contributed a total of AUD 4 million towards the cause, including AUD 3 million for research into prevention, treatment and ultimately finding a cure. In addition to that, AUD 500,000 was contributed to OA and AUD 500,000 to the work of the Garvan Institute. Now, all of that leads us to where we want to go from here," said Minister Hunt.
New Zealand
Fracture Liaison Service (FLS) teams in hospitals New Zealand-wide manned stands in their foyers to reinforce the importance of maintaining healthy bones, and ways to proactively prevent osteoporosis. Hospital visitors and staff alike were encouraged to perform a Know Your BonesTM online self-assessment to determine their risk of osteoporotic fracture at bones.org.nz, and were armed with language-specific osteoporosis resources. Waitematā District Health Board (DHB) provided three iPads for visitors to complete the online bone health assessment at their stand.
To further complement these activities, Osteoporosis New Zealand issued regular posts on their Facebook and LinkedIn channels on WOD, encouraging New Zealanders to take the Know Your BonesTM health assessment.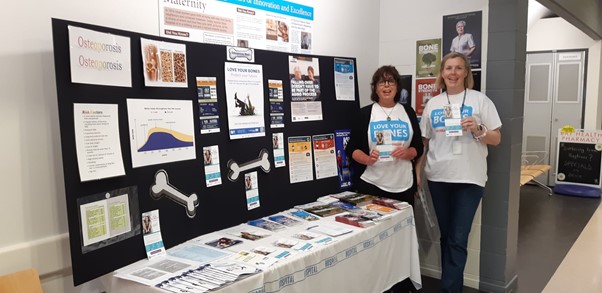 Pakistan
The Bone and Mineral Diseases Research Group, Aga Khan University (AKU), Karachi, Pakistan coordinated a virtual webinar to mark WOD. Chaired by APCO Executive Committee member, Prof Aysha Habib Khan, and moderated by AKU Chemical Pathology Senior Instructor, Dr Sibtain Ahmed, the webinar featured APCO Chair, Senior Consultant and Director, Osteoporosis and Bone Metabolism Unit, Singapore General Hospital (SGH), Dr Manju Chandran, Singapore, canvassing her experience of developing the APCO FRAMEWORK on osteoporosis diagnosis and management in the Asia Pacific region, and proposing optimal osteoporosis care solutions for low and middle income countries (LMIC).
Dr Chandran discussed the burden of osteoporosis in Asia Pacific, APCO's pivotal role in addressing care gaps in osteoporosis management in the region, and the way forward for secondary fracture prevention (SFP) in resource-constrained LMICs, including Pakistan. Prof Khan concluded the webinar by calling for a multi-disciplinary approach to help bridge the osteoporosis care gap, and the delivery of enhanced quality of care to those with bone and mineral diseases, through improved education and research.
The webinar attracted more than 170 health care professionals and policy makers from Pakistan, China, Hong Kong, Afghanistan, Portugal, United Arab Emirates, and the United Kingdom.
Post-webinar queries and comments included the role of goal directed therapy (GDT) for osteoporosis, application of Artificial Intelligence (AI) tools for osteoporosis screening and secondary fracture prevention (SFP) services, and the fact that men too, are at risk of osteoporosis, and therefore require appropriate evaluation and intervention.

Singapore
Singapore's first Virtual public forum on bone health and osteoporosis- 'Healthy Bones Healthy Families'was held on October 17, to commemorate WOD. A joint endeavour by the Osteoporosis and Bone Metabolism Unit and WISHBONE (Women (and Men) In Support of Healthy Bones) Osteoporosis Support Group at Singapore General Hospital (SGH), the Osteoporosis Society Singapore (OSS) and Women's Integration Network (WIN) Council of the People's Association, the event was conducted via Zoom and simultaneously streamed live on Facebook, and has attracted a substantial 10,000 views to date!
The event featured an 'Investing in your bone bank to have a fail proof retirement' presentation by APCO Chair, and founder of WISH BONE, Dr Manju Chandran. In addition, Senior Principal Physiotherapist, Department of Physiotherapy, SGH, Dr Cindy Ng, provided an exercise demonstration titled 'Move it or lose it', along with a foot-stomping Bollywood Zumba dance demonstration by Owner and Founder of Dancing Feet Dancing Studio, Ms Sneha Yadav, Singapore.
The event concluded with a lively Q&A session with audience-posted questions answered by Drs Chandran and Ng. The event attracted positive feedback and laid the foundations for further potential virtual bone health forums.

Thailand
Thai APCO representative and Chief of the Osteoporosis and Geriatric Excellent Center, Police General Hospital, Dr Tanawat Amphansap, Bangkok, participated in a Thai Osteoporosis Foundation (TOPF) hosted Facebook live osteoporosis seminar prior to WOD on October 7, 2020.
To further extend the WOD celebration, the Thai Osteoporosis Foundation plans to stage a 'Fit Your Bone Run' to promote the importance of healthy bones on December 20, 2020. The event will involve a 10.5km mini-marathon and a 3km fun run. The winner of the mini-marathon will be awarded a Royal Trophy from Her Royal Highness Princess Maha Chakri Sirindhorn.

Vietnam
APCO member and Deputy Head of the Department of Internal Medicine, Pham Ngoc Thach University of Medicine, Dr Lan Ho-Pham, Ho Chih Minh City, staged a local event to mark WOD, offering 100 people at risk of osteoporosis a complimentary DXA BMD scan at the Vietnam Osteoporosis Study (VOS) lab. DXA scans remain the gold standard for measuring BMD in Vietnam and play an important role in evaluating those at risk of osteoporosis.


The IOF
To mark WOD 2020, the IOF uploaded new resources to its dedicated website – www.worldosteoporosisday.org. Under the banner 'THAT'S OSTEOPOROSIS', 15 patient stories and portraits in poster format highlighted the role of post-fracture care by family carers, the need to be aware of personal risk factors for osteoporosis (including parental hip fracture), and the importance of bone-healthy nutrition for the entire family. Due to this year's pandemic restrictions, the IOF chose to focus on digital campaigns to reach consumers and healthcare professionals, via webinars and video messages. The IOF's 105 social media posts using the hashtag #WorldOsteoporosisDay have reached more than 200,000 people to date.
The IOF was particularly honoured to host a WOD video message from Her Royal Highness the Duchess of Cornwall, President of the Royal Osteoporosis Society, on its website. The organisation also issued a media release via an international news agency with a potential outreach of 1.25 billion people, and an additional release announcing the impact of the COVID-19 pandemic on FRAX risk assessments and osteoporosis management.
Dr Chandran congratulated APCO members for their fabulous contribution to WOD 2020, and for championing this seriously neglected disease, stating: "As the region's largest and only consortium of independent osteoporosis experts, we look forward to continuing to co-create more innovative and elaborate initiatives designed to address the current critical gap in osteoporosis care throughout Asia Pacific."