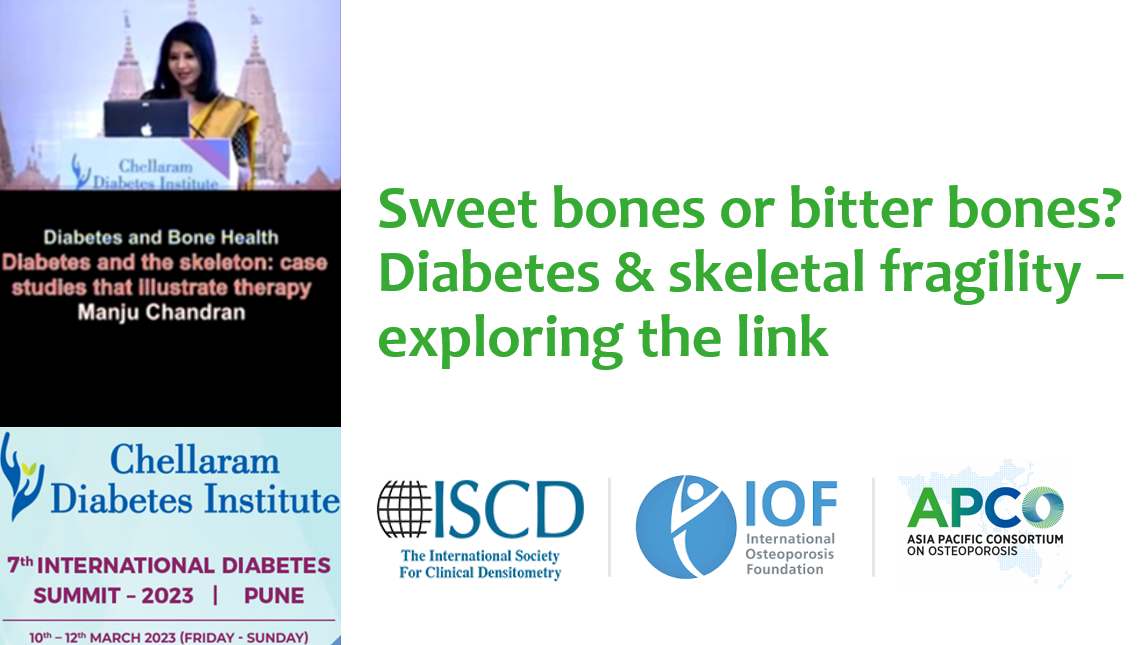 On 10 March 2023, APCO Chairperson, Professor Manju Chandran, was invited to speak at the prestigious 7th International Diabetes Summit organised by the Chellaram Diabetes Institute, Pune, India.
Prof Chandran was invited to speak about the association between Diabetes and skeletal fragility.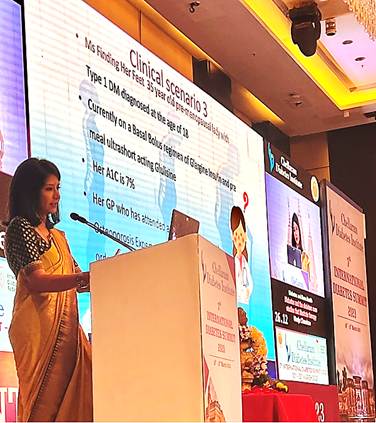 It is a very well-known statistic that by the year 2050, half of the world's osteoporotic fractures will occur in Asia. Based on current projected trends, it is expected that by the year 2025. Southeast Asia will have more than 80 million people living with Type 2 diabetes. Unfortunately, there is a lack of awareness and acknowledgement on the correlation between diabetes and bone health. Skeletal fragility is a well-established complication of diabetes, yet it is not given the importance it deserves. Similarly, diabetes is not popularly recognised as a risk factor for skeletal fragility. This is despite studies and publications over the past 80 years showing the ominous link between the two.
Though there is some recent evidence to the contrary, Type 1 diabetes (T1D) largely appears to have a negative impact on Bone Mineral Density (BMD). In contrast, persons with Type 2 diabetes (T2D) have higher BMD than non-diabetic individuals. The higher BMD is observed in both obese as well as underweight persons with T2DM. Though there appears to be differences in incidence as well as the type of fractures depending on gender, and whether it is Type 1 of Type 2 diabetes, multiple studies have shown both types of Diabetes Mellitus (DM) to be  independent risk factors for fractures. The decrease in bone strength in diabetes may be more a reflection of microarchitectural deteriorations in the bone that are not reflected in BMD changes.
As part of her presentation, Prof Chandran spoke on the following topics;
Defining the Problem and Prevalence

Studies examining BMD and Fracture Risk in DM

Mechanisms of Bone Loss in DM

Estimation of Fracture Risk, effects of antidiabetic treatment on bone and treatment recommendations for skeletal fragility in DM.
During her presentation, Prof Chandran shared on the need for adjusting FRAX to properly estimate risk of fracture in persons with diabetes. She talked about assessing bone quality in diabetes using modalities such as Trabecular Bone Score (TBS) and Micro-Finite Element Analysis among other techniques and tools. While talking about antidiabetic medications, Prof Chandran encouraged clinicians to be aware of medications that have a negative impact on bone health. Prof Chandran went through some clinical examples and also addressed the multiple queries from the audience pertaining to  the topic.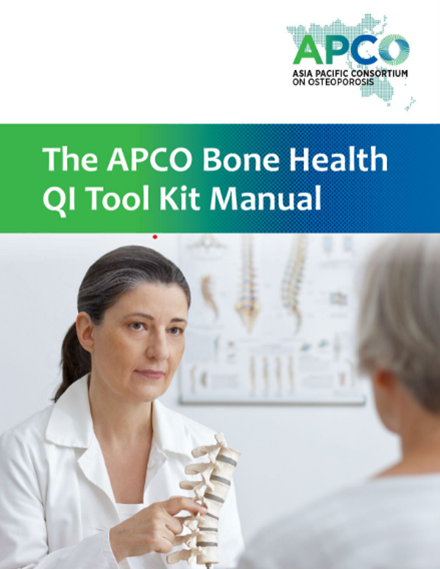 Prof Chandran also introduced APCO's Bone Health QI Tool Kit which can be utilised by healthcare providers anywhere in the world to audit their own practice and to see whether, and how it benchmarks against the gold standards of care, which are advocated in the APCO Framework. 'The APCO Framework' comprises 16 minimum clinical standards that serve as a benchmark for the provision of optimal osteoporosis care in the Asia Pacific region.
Prof Chandran encouraged the clinicians at the summit to use the APCO Bone Health QI Tool Kit, and in particular use clinical standard 4 (CS4) which emphasizes the assessment of bone health in patients with secondary conditions including diabetes.
To listen to a recording of Prof Chandran's talk at the 7th International Diabetes Summit organised by Chellaram Diabetes Institute, click on the following link:  https://www.youtube.com/watch?v=eVDbr-zh15w
To learn more about APCO, visit www.apcobonehealth.org or follow APCO on LinkedIn: asia-pacific-consortium-on-osteoporosis.
To learn more about the APCO Bone Health QI Tool Kit, click on the following link:  APCO Bone Health QI Tool Kit.
To learn more about 'The APCO Framework', click on the following link:  The APCO Framework.